Grilled to perfection with tender shrimp marinated in a tangy lime cilantro sauce and served with a rich avocado dipping sauce!
I've been working on various marinades and grilled recipes recently, so I'm beyond thrilled that summer is finally here and it's grilling season.
One of my all-time favorite recipes is this one for Keto Shrimp, and you will love it too!
Shrimp cooks quickly on the grill and is perfect for last-minute dinners because it only takes about 5 minutes for them to be finished.
I skewer and grill these large shrimp, then serve them with my Avocado Lime Cilantro Ranch Dressing as a dipping sauce, after marinating them in a lime cilantro marinade with garlic, olive oil, smoked paprika, and a little heat from cayenne pepper.
If you don't like shrimp, you can substitute chicken for the shrimp and use the same marinade; I would recommend marinating the chicken for at least 1-2 hours. Lime and cilantro is one of my all-time favorite flavor combinations, and I use it frequently in my dishes.
Please use the share buttons to share on social media, but do not copy or paste the recipe. Copyright for Keto Cooking Christian LLC.
*All nutritional information is based on net carbs, without sugar alcohol- Swerve, Erythritol, Allulose, or Monk Fruit, and is accurate to the best of my knowledge. You can verify it using the nutrition calculator of your choice.
Grilled Shrimp with Asian Coconut Scallion Sauce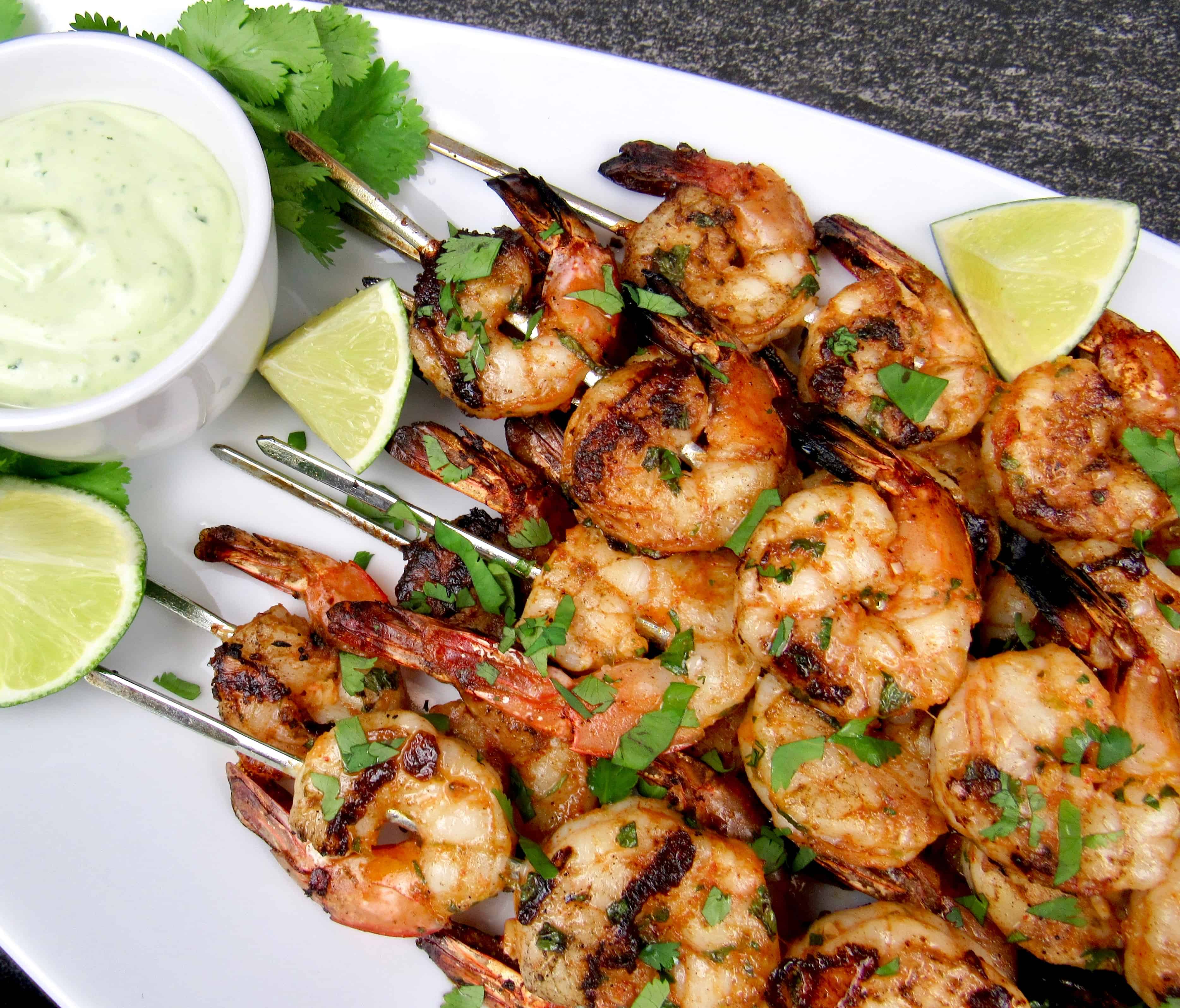 Grilled Lime Cilantro Shrimp Skewers 🔗
Tender shrimp in a zesty lime cilantro marinade, grilled to perfection and served with a creamy avocado dipping sauce!
Prep: 5min
Total: 11min
Serving Size: 1 serving
Nutrition Facts: calories 124 kcal, Carbohydrate 2 g, Protein 23 g, Fat 2 g, servingSize 1 serving
Ingredients:
1 1/2 pounds large shrimp (raw, peeled, deveined with tails on)
1 teaspoon smoked paprika
1/4 teaspoon ground cumin
2 garlic cloves (minced)
2 tablespoons fresh cilantro (chopped)
juice and zest of 1 lime
1/2 teaspoon salt
1/4 teaspoon cayenne pepper
1/4 cup olive oil
Optional: Avocado Lime Cilantro Ranch Dressing for dipping
Instruction:
Add all the ingredients except the shrimp and dipping sauce to a mixing bowl and whisk until well combined.Pour over the shrimp in a food storage container or baggie and allow to marinate for 20-30 minutes.If you are using wooden/bamboo skewers, be sure to soak them in water prior to grilling.
Add the shrimp to your skewers and grill for a few minutes on each side.  As soon as they turn pink, they are done, take them off!The last thing you want is to overcook your shrimp.
Garnish with fresh cilantro and wedges of lime.  Serve along side Lime Cilantro Cauliflower Rice or my Lime Cilantro Broccoli Slaw.  You can even serve over a salad with my Avocado Lime Cilantro Ranch Dressing!
FAQ
Can you eat grilled shrimp on a keto diet?
As with all seafood, including fish like halibut as well as crab and lobster, shrimp is low in carbs (and net carbs) when consumed on its own. When combined with keto vegetables, shrimp can be turned into a meal.
What is the best way to prepare shrimp to grill?
10 Best Side Dishes to Serve with Grilled Shrimp: 1 Potato Salad, 2 Risotto, 3 Coleslaw, 4 Cucumber Salad, 5 Green Beans, 6 Grilled Foil Potatoes, 7 Creamy Parmesan Rice, and 8 Cheesy Garlic Breadsticks.
How many carbs are in grilled shrimp?
Place the skewers of shrimp on the hot side of the grill, brush with olive oil, season with kosher salt and freshly ground black pepper, and cook for 2 to 3 minutes per side or until the shrimp are just beginning to turn pink and opaque in the center.