We love to prepare these for family dinners during the warm spring and summer months. With just a few basic ingredients and some helpful tips, these delectable and juicy Grilled Turkey Burgers are sure to become one of your go-to grilling recipes.
I love to serve them with air fryer potato wedges or beer battered onion rings for a leaner burger with a tasty change in flavor from beef.
THE BEST TURKEY BURGERS | SAM THE COOKING GUY 4K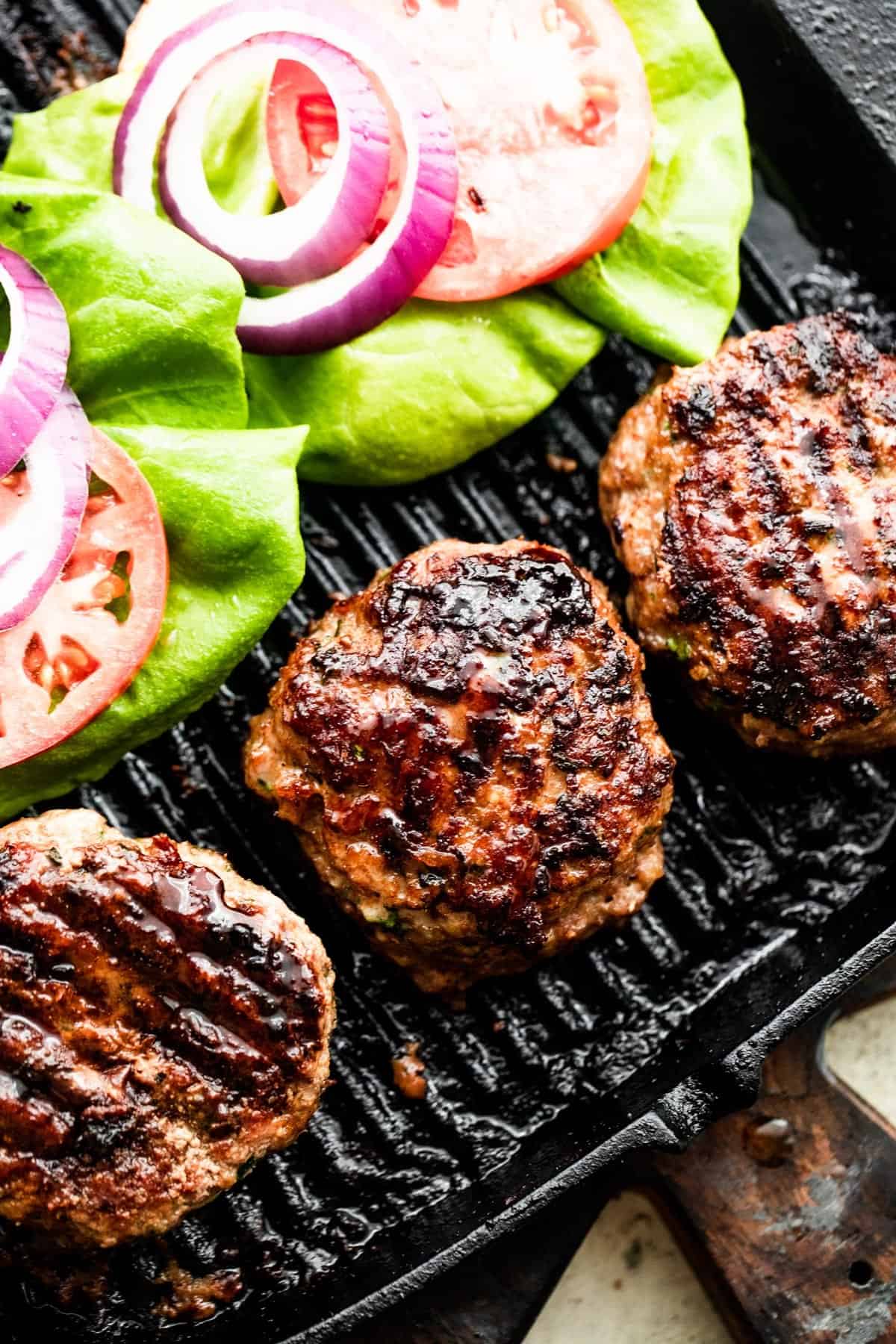 Juicy Grilled Turkey Burgers 🔗
With ground turkey, grated onion, Worcestershire sauce, and a few other basic ingredients, these Juicy Grilled Turkey Burgers are guaranteed to turn out juicy, tender, and perfect for warm-weather dinners!
Prep: 5min
Total: 45min
Serving Size: 1 serving
Nutrition Facts: calories 166 kcal, Carbohydrate 3 g, Protein 29 g, Fat 4 g, Saturated Fat 1 g, Trans Fat 1 g, Cholesterol 113 mg, Sodium 741 mg, Fiber 1 g, Sugar 1 g, unSaturated Fat 2 g, servingSize 1 serving
Ingredients:
1 pound ground turkey
⅓ cup pork rind panko crumbs, (or plain bread crumbs)
¼ cup grated onions
3 cloves garlic, (minced)
2 tablespoons chopped fresh parsley
1 egg yolk, (lightly beaten)
1 tablespoon worcestershire sauce
1 teaspoon salt
½ teaspoon fresh ground black pepper, (or to taste)
burger buns
cheese
lettuce
tomatoes
Sliced red onion
mustard
Mayonnaise
ketchup (etc.)
Instruction:
In a large bowl combine the ground turkey, crumbs, onions, garlic, parsley, egg yolk, worcestershire sauce, salt, and pepper; mix until just combined. Do not overmix.
Form mixture into four flat patties. If the mixture is too wet to the point of falling apart, add a little more crumbs, or until desired consistency. Keep in mind, though, that the burgers should be wet and soft, and will firm up in the fridge.
Transfer the turkey burgers to a large plate and then place them in the refrigerator for about 20 to 30 minutes.
Remove the burgers from the fridge.
Preheat the grill to high; about 425˚F to 450˚F.
Oil the grates.
Using your thumb, create an indent in the center of each turkey patty.
Transfer to the grill and cook for 6 minutes; flip over and continue to cook for 5 to 7 more minutes, or until internal temperature of the turkey burgers registers at 160˚F to 165˚F.
Remove from grill and let rest for about 5 minutes before serving.
FAQ
Can you cook turkey burgers on a grill?
4. Add a slice of your preferred cheese during the final minute of grilling while the burger is still on the grill. Grill the turkey burgers for 10 to 12 minutes over direct medium heat, turning once halfway through cooking, and keeping the lid closed as much as possible.
How do you grill turkey burgers without falling apart?
Try adding some dry breadcrumbs to the turkey mixture before forming the patties; the crumbs will absorb the moisture and, along with the egg, will act as glue and help your burgers maintain their shape on the grill, just like in a traditional meatloaf.
Do you put egg in turkey burgers?
The tiniest bit of mayonnaise gives the turkey burgers flavor and juiciness, prevents them from drying out as they cook, and is my secret ingredient for juicy turkey burgers.