This recipe for arugula salad with lemon vinaigrette is simple to make, light, and refreshing—it's ideal for serving as a side dish or appetizer during the warmer months.
Lemon vinaigrette is vegan and gluten free, and it only takes a few minutes to put together the homemade salad dressing!
There's no point in using a bottled dressing that has half the flavor for a savings of just 30 seconds, so I keep salads simple and fresh.
This salad contains no added preservatives, salt, or sugar, making it a much healthier option and more affordable than bottled dressing. That's right, you can make this dressing in just a few seconds by pouring, shaking, and tossing.
For me, summer is all about simplicity, and this salad is full of tangy, fresh flavors and comes together in a matter of minutes. It's a great salad to throw together for simple entertaining.
Even more fun than that, did you know you can grow Meyer lemons at home? I'm showing you how, and it's not as hard as you might think! I love lemon everything, and I've shared so many ways to include it in your kitchen – don't skip the linked lemon recipes at the bottom of this post!
Making your own dressings will make even the most boring salad taste amazing, and you'll never go back to store-bought again!
How to Make Lemon Vinaigrette – Quick and Easy Salad Dressing Recipe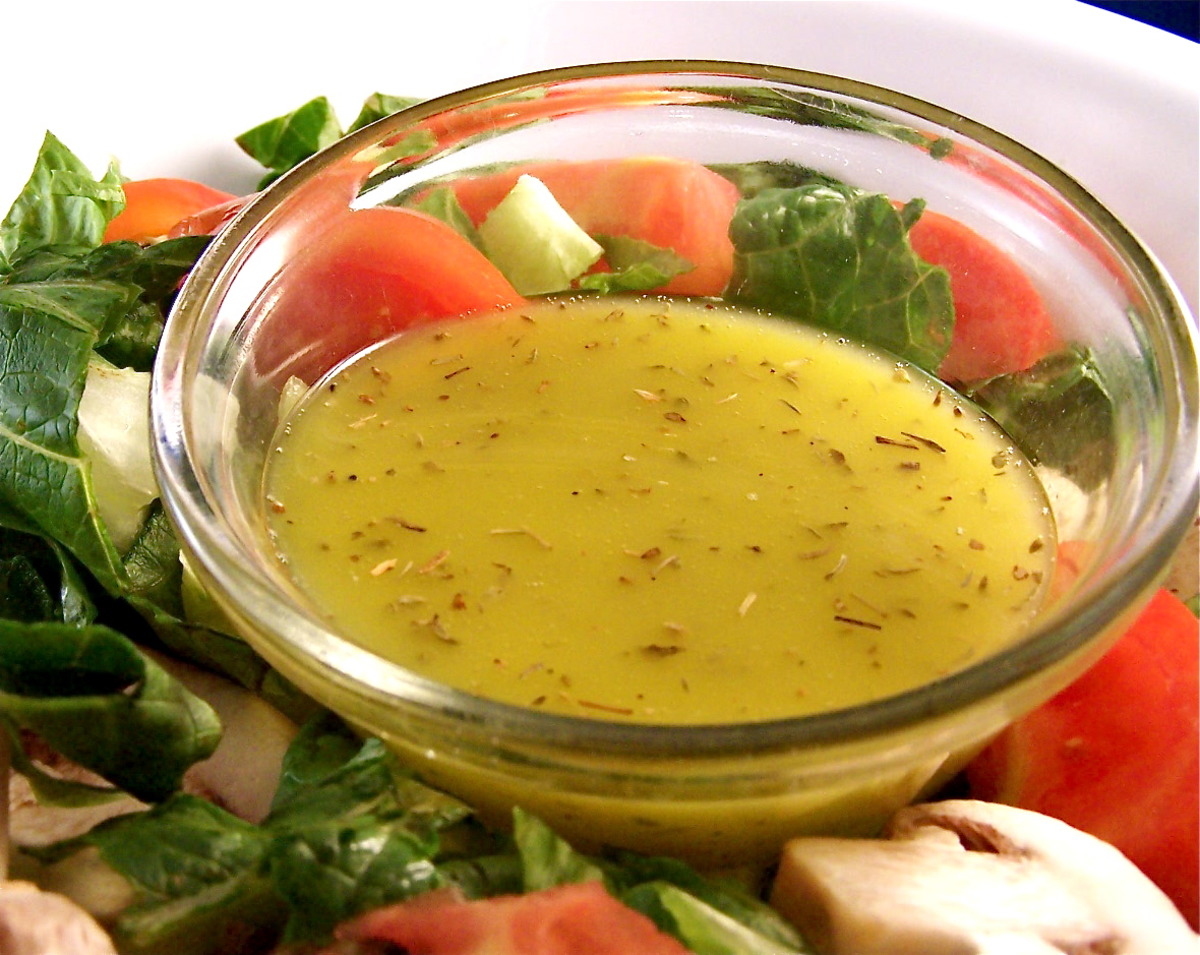 Lemon Vinaigrette Dressing 🔗
This vibrant dressing requires extra-virgin olive oil, freshly squeezed lemon juice, and fresh oregano. Toss it with baby greens for a cooling side dish salad. Or, use torn romaine lettuce and add tomato chunks, chopped cucumber, crumbled feta cheese, and sliced olives to make the salad more substantial. I got this recipe from a local news television channel.
Prep: 15min
Total: 15min
Nutrition Facts: calories 259.4, Fat 27.2, Saturated Fat 3.8, Cholesterol 0, Sodium 147.2, Carbohydrate 5.6, Fiber 1, Sugar 1.9, Protein 0.5
Ingredients:
1/4 cup extra virgin olive oil
1/4 cup fresh lemon juice
2 teaspoons minced fresh oregano (or 1/2 teaspoon dried oregano)
2 garlic cloves, minced
1/2 teaspoon sugar
1/4 teaspoon fresh ground pepper (to taste)
1/8 teaspoon salt (to taste)
Instruction:
Whisk together all of the ingredients in a small bowl, making certain the sugar is dissolved. Adjust the seasonings to taste.
Let sit for an hour or so, and then whisk again before serving.