If you don't have a favorite IPA, ask a microbrew-loving friend. You won't be disappointed. Sports fans of Oakland, California are famous for their tailgating, and this recipe is a good example of how they'll elevate a cookout classic with a few upgraded ingredients.
How to grill tri-tip with charcoal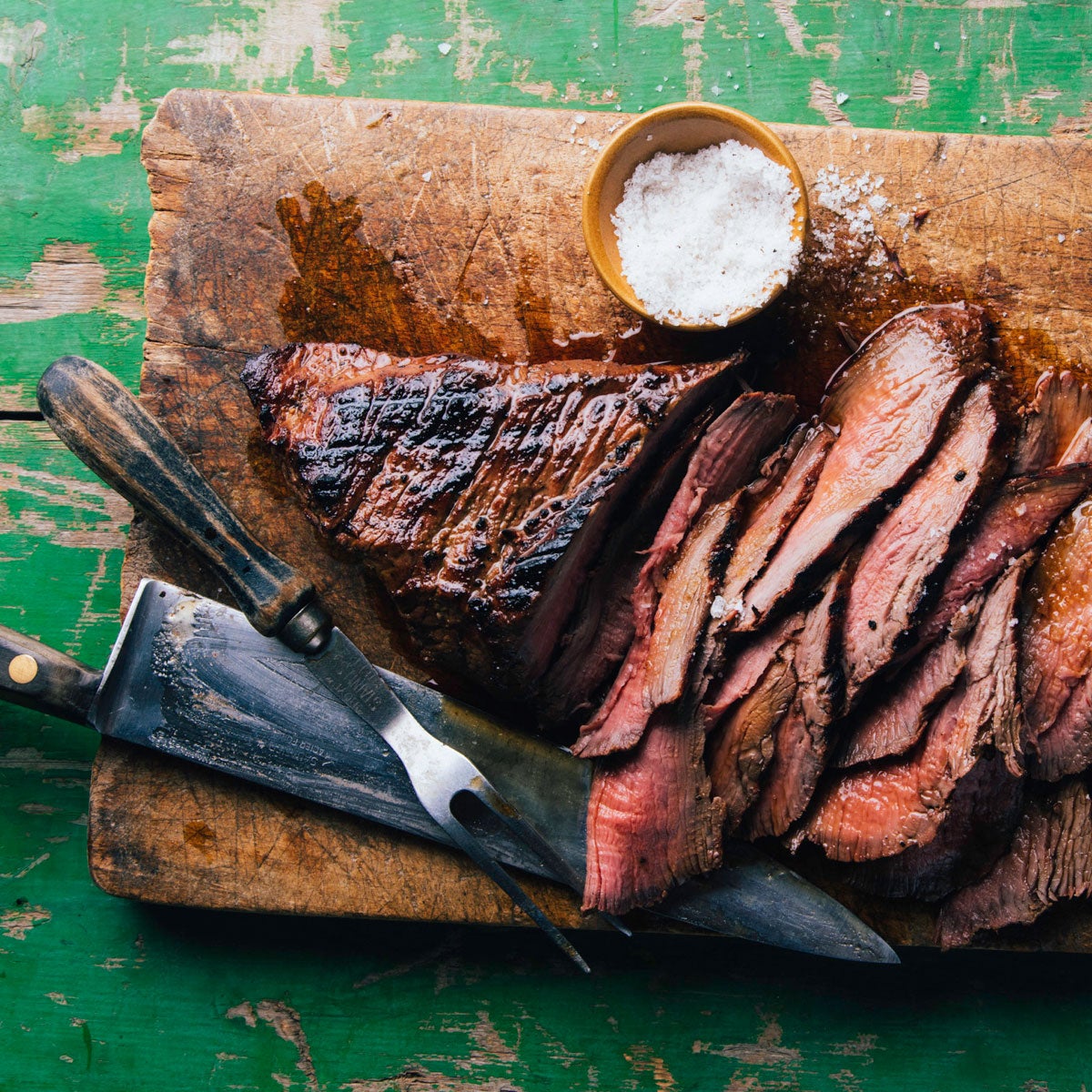 Original Nor-Cal BBQ Tri-Tip 🔗
0
Prep: 15min
Total: 105min
Ingredients:
3 tbsp. yellow mustard
0.25 cup beer* (microbrewery IPA of choice)
1.5 tbsp. Worcestershire sauce
2 lb. trimmed prime grade beef tri-tip, silver skin removed
2 tsp. kosher salt
1 tsp. freshly ground black pepper
1 tbsp. granulated garlic
neutral cooking oil for grilling, as needed
1 tsp. flaky Maldon salt or fleur de sel, for finishing
Instruction:
In a small bowl, whisk together the mustard, beer, and Worcestershire sauce. Spread the mixture all over the tri-tip. Season the tri-tip all over with 2 teaspoons salt, 1 teaspoon pepper, and the granulated garlic.
Place the tri-tip in a plastic bag or large dish and let it rest and marinate for at least 30 minutes in the refrigerator. You may also let it marinate, refrigerated, for several hours and up to overnight.
When ready to cook, light a full chimney of Kingsford® Original Charcoal or a pile of about 100 briquets. Build a two-zone fire, placing preheated briquets on one half of the bottom grill grate and leaving to other side void.
Replace the grate, allow it to heat up to 400°F — all vents should be fully open — then pour cooking oil on a folded paper towel and oil the grate using long-handled tongs.
For more intense smoke flavor, add about two cups of Kingsford™ Wood Chips with Hickory or Mesquite. Be sure to soak the chips for at least 30 minutes in water before spreading on the coals.
Place the tri-tip on the warm side of the grate (not directly over the coals), close the lid, and grill it for about 20–30 minutes, then turn it over and repeat.
When the tri-tip is close to your desired internal temperature, 140°F for medium, remove the lid and sear both sides directly over the coals, for about 3 to 4 minutes per side. For your safety, please reference the USDA safe cooking temperatures.
After the tri-tip comes off the grill, cover loosely with foil and let it rest for about 10 minutes.
Once rested, cut in half along the grain and then slice, very thinly, against the grain. Dip each slice into the collected juices created by slicing and serve, sprinkled with finishing salt.Major League Baseball trademarks and copyrights are used with permission of Major League Baseball. Visit MLB.com.
FAQ
How long does it take to cook a tri-tip on a charcoal grill?
6 Place the tri-tip on the warm side of the grate (not directly over the coals), close the lid, and grill it for about 20 to 30 minutes. Then turn it over, and repeat. Be sure to soak the chips in water for at least 30 minutes before spreading them on the coals.
How long does it take to grill a tri-tip?
If you want to really infuse your tri-tip with smoky flavor early on (this is a fairly quick cook), start your charcoal smoker at a low temperature and add wood chips before smoking. Once the coals are hot, close the lid and set your bottom vent and top vent.
How long does a 3lb tri-tip take on the grill?
The time it takes to cook the beef will depend on how well-done you like your meat and the consistency of the temperature on your grill, but it will usually take between 30 and 50 minutes.