Ooh child, I am so excited to finally share a Blackstone griddle recipe with you, and one that even has vegetables! This Blackstone Steak & Vegetable Noodle Stir Fry is one of my favorite newest recipes! Loaded with tender steak, vegetables, flavors, and some heat! This is the perfect complete meal to make outside this Summer on your Blackstone griddle! Of course, if you don't have one you can make it on the stove top, too!
The reason I joke about this recipe containing vegetables is because although I like them, my husband is basically a meat and potatoes guy. He will pick through stuff , eat some peppers, but for the most part dinner for us usually has minimal vegetables in it. He enjoyed the Blackstone Steak & Vegetable Noodle Stir Fry as much as I did . One, because he had fun cooking it on our griddle. Two, the steak was tender and the flavor was on point. He picked around the broccoli but that was okay with me!
HOW TO MAKE STIR FRY on the Blackstone Griddle!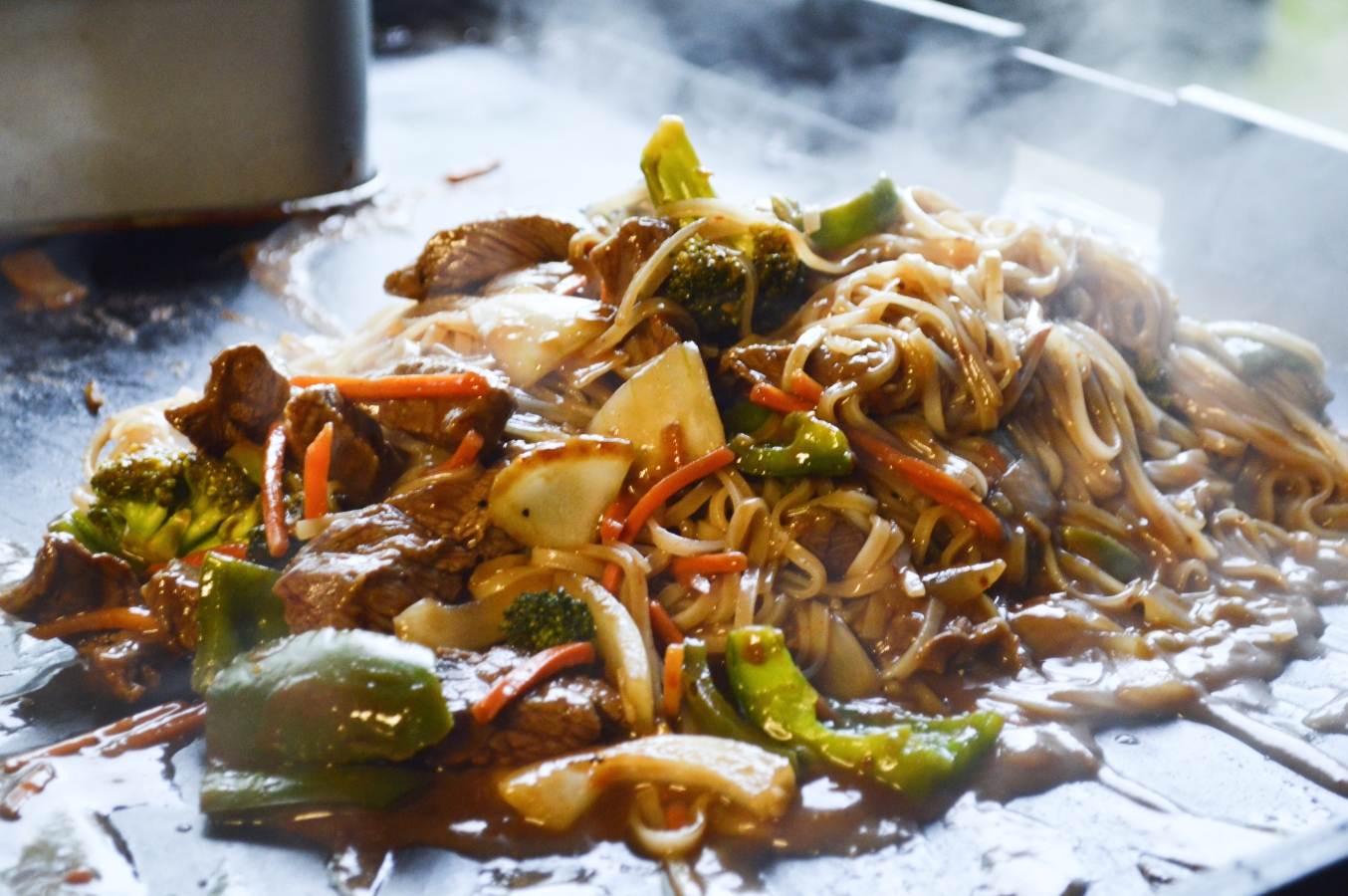 Blackstone Steak and Vegetable Noodle Stir Fry 🔗
This simple but tasty steak stir fry is made right outside on the Blackstone griddle for an easy all in one meal!
Prep: 10min
Ingredients:
2 lbs Beef Loin Sirloin Steak (cut into thin strips)
Salt and pepper (to taste)
1 green bell pepper (roughly chopped)
1 white onion (sliced)
1 crown broccoli (stems cut off )
1 cup matchstick carrots (or shredded )
garlic or garlic powder (to taste )
1 12 oz. bottle of Kung Pao Sauce (or similar)
12 oz. water
1/3 cup soy sauce (low sodium)
1/8 cup sriracha sauce
red peppers flakes (to taste )
1 8 oz. package brown rice noodles (cooked according to package)
cooking oil
Instruction:
Cut the sirloin steak into thin strips and season with salt and pepper.
In a large Zip Lock bag or container, add the steak, green peppers, onion, broccoli, carrots, and garlic.
Next pour the entire bottle of sauce over steak and vegetables.
Fill the bottle with water and add that too.
Add in soy sauce, sriracha sauce, and red pepper flakes.
Seal the bag and shake so that all of the ingredients can marinate in the liquid.
Refrigerate and Marinate until ready to grill.
Heat up the Blackstone griddle to a low-medium heat with cooking oil.
Slowly and carefully pour the entire bag onto the griddle.
Cook and toss until steak is cooked and vegetables are soft and fragrant.
Add in the cooked brown rice noodles and toss again. Quickly pull off once tossed to prevent sticking.
Serve hot and enjoy!
FAQ
Can you make stir fry on the flat top?
Stir fry meals can be done easily and efficiently on a flat top griddle. If you don't have a griddle, then you can easily make this stir fry recipe on the stove in a saucepan or wok. You have your protein, vegetables, rice, and the simple homemade stir fry sauce to create a healthy meal at home for just a few dollars.
Can you put a sauce pan on a Blackstone grill?
Yes, it's okay to put a pan on a Blackstone Griddle. However, only use CAST IRON; it's the only safe choice. A Blackstone griddle produces heat that goes as high as 500 degrees Fahrenheit, which might be too hot for other metals.
What veggies are good on a Blackstone griddle?
Simply toss them with oil and seasonings, and cook. Making asparagus on Blackstone griddle is as easy as it gets! Besides asparagus, other vegetables good for flat top grill cooking are zucchini, squash, onions, potatoes, sweet potatoes, corn, and even broccoli.
Do you always put oil on Blackstone before cooking?
FIRST TIME: Blackstone Griddles are pre-seasoned with cooking oil to prevent rust and damage during shipping. For first time use, wash the griddle in hot, soapy water. THIS IS THE ONLY TIME YOU SHOULD USE SOAP ON THE GRIDDLE.