On a hectic weeknight, you can easily prepare these colorful and flavorful shrimp tacos, and they're also healthy.
You can make most of the recipe ahead of time, although there's really no need to since it comes together so quickly, and then just fire up the grill and lay out all of the fixings for everyone to assemble their own tacos. since you're already eating with your hands, complete the meal with some fresh boiled corn since you're already eating with your hands.
Grilled Shrimp Taco Recipe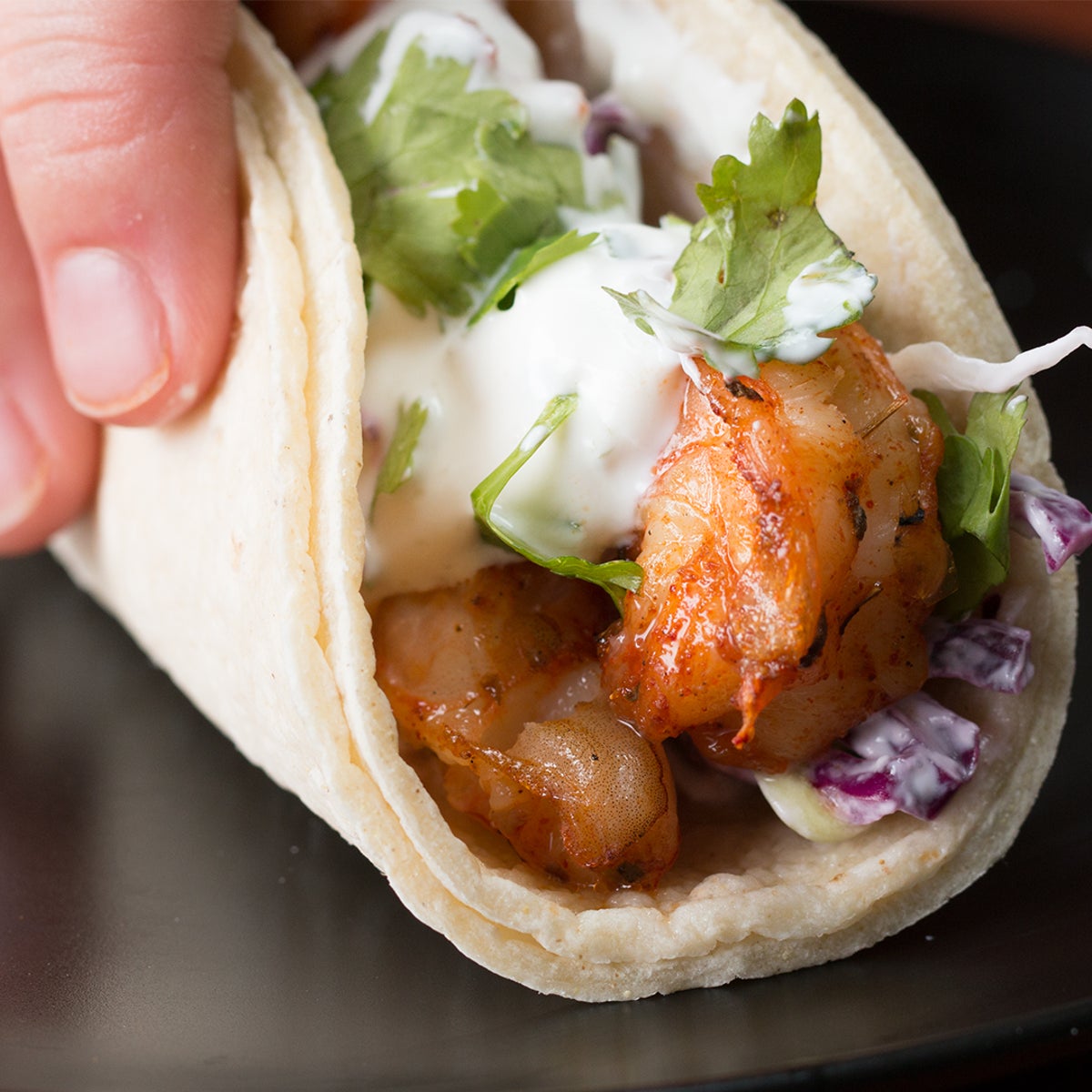 Grilled Shrimp Tacos With Creamy Cilantro Sauce Recipe by Tasty 🔗
Here's what you need: shrimp, paprika, garlic powder, dried oregano, cumin, red pepper flakes, salt, skewers, olive oil, corn tortillas, sour cream, fresh cilantro, lime zest, salt, lime juice, green cabbage, red cabbage, jalapeño, lime wedge, fresh cilantro
Nutrition Facts: calories 268 calories, Carbohydrate 25 grams, Fat 10 grams, Fiber 4 grams, Protein 19 grams, Sugar 2 grams
Ingredients:
2 lb shrimp, deveined & tails removed
1 teaspoon paprika
1 teaspoon garlic powder
½ teaspoon dried oregano
1 teaspoon cumin
½ teaspoon red pepper flakes
½ teaspoon salt
24 skewers, bamboo or metal
4 tablespoons olive oil
24 corn tortillas
1 cup sour cream
3 tablespoons fresh cilantro, minced
1 teaspoon lime zest
¼ teaspoon salt
2 tablespoons lime juice
1 ½ cups green cabbage
1 ½ cups red cabbage
1 tablespoon jalapeño, minced
lime wedge
fresh cilantro
Instruction:
In a large bowl, season shrimp with paprika, garlic powder, oregano, cumin, red pepper flakes, and salt. Toss gently to combine.
Using 2 bamboo or metal skewers, poke through the top and bottom of the shrimp and push down to the bottom of the skewer.
Add 3 more shrimp to the same skewer and repeat until all of the shrimp are used.
Right before you put the shrimp on the grill, brush each skewer with a generous amount of olive oil, to prevent sticking.
Grill over high heat for 3 minutes, brush the top side with more olive oil, flip, and let cook for an additional 3 minutes.
Remove from skewers & set aside for taco assembly.
In a bowl, combine all creamy cilantro sauce ingredients. Stir well to combine.
In a large bowl, combine green cabbage, red cabbage, and minced jalapeño. Pour half of the sour cream mixture over the cabbage, saving the other half for extra sauce to put on the tacos.
Assemble the tacos on corn tortillas. Add the cabbage mixture, followed by the shrimp. Top with the creamy cilantro sauce, cilantro, and a squeeze of lime juice.
Enjoy!
FAQ
How do you cook shrimp on the grill?
Be careful not to overcook the shrimp or else it will become tough. Grill the shrimp over direct, medium heat for 5-7 minutes, turning the shrimp halfway through the process. When the shrimp is cooked, the outside should turn a nice pink color and the meat inside should be white and opaque.
How much shrimp do you need per person for tacos?
The following are 12 quick and simple sides for shrimp tacos: tortilla chips and mango salsa; pico de gallo; Spanish rice (or cilantro lime rice); cole slaw; jicama slaw; elote; Mexican corn salad; charro beans (frijoles charros); and coleslaw.
What is shrimp taco made of?
A good rule of thumb is to buy 8–10 shrimp per person when making shrimp tacos.