You can buy smoked ham at the store; however, learning how to smoke it at home yields better flavor and quality. Smoked ham works well as a main course; however, you can incorporate it into dishes like pasta, casseroles, or even soups. However you add it to your meal plan, adhere to these guidelines for ideal smoking results.
Smoked Ham on The Pellet Grill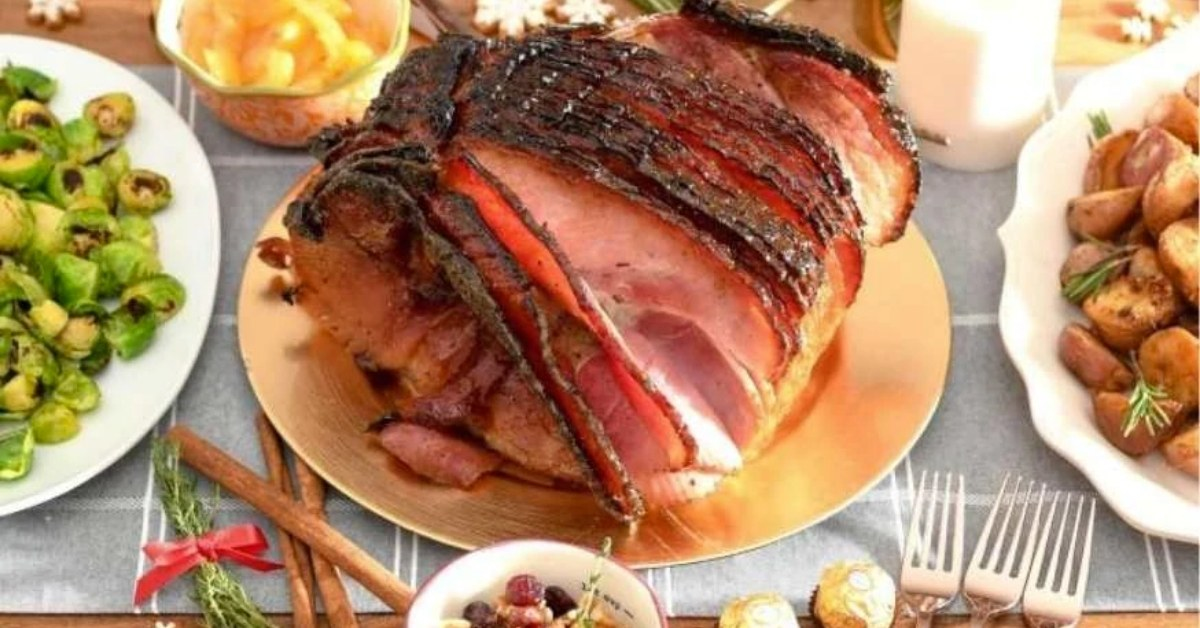 Best Twice Smoked Ham Recipe 🔗
0
Prep: 10min
Total: 190min
Ingredients:
One pre-cooked ham (smoked ham is ideal) For the glaze
½ cup packed brown sugar
½ cup of pure maple syrup or honey
2 tablespoons Dijon mustard
½ teaspoon ground cinnamon
¼ teaspoon of ground allspice, nutmeg, or ginger
Instruction:
Preheat your Z Grills pellet smoker to 225°F.
While your grill preheats, remove your smoked ham from the package. It may be pre-glazed. In this case, rinse it off. Pat the ham dry with paper or cloth towels.
Score the ham's exterior by cutting the skin in a crisscross pattern. If your ham is spiral cut, you can skip this step.
Place a temperature probe inside your unglazed ham, and then put both inside your pellet grill. Close the lid.
Smoke your unglazed ham until the internal temperature reaches 130°F to 135°F, about 1-2 hours or 10 minutes per pound of ham.
While your ham is smoking, prepare the glaze. Mix all glaze ingredients (brown sugar, maple syrup, Dijon mustard, cinnamon, and allspice) in a saucepan until well incorporated.
Heat the glaze over medium heat, frequently stirring until the sugar completely dissolves and the glaze becomes a syrup-like consistency. If you accidentally make the glaze too thick, add a tablespoon of liquid (like apple juice, root beer, or beer) to the glaze to thin it out.
Remove the ham from the grill (after it reaches an internal temperature of 130°F). Place it in a grill-safe dish (like an aluminum pan or cast-iron skillet).
Brush on the glaze evenly across the entire ham. If you don't use all the glaze, that's okay.
Place the glazed ham back in your 225°F pellet smoker.
Every 10 minutes, apply or reapply more glaze. Use your reserved glaze or hot glaze from your pan drippings.
Remove your ham when the internal temperature reaches 140°F.
Lightly cover the ham with foil and allow it to rest for 10-30 minutes before serving.
FAQ
How do you smoke a precooked ham on a pit pellet grill?
Instructions Cook the ham until it reaches 138 to 140 degrees F, then brush it with the Ginger-Peach glaze and cook it an additional three to four minutes, or until it reaches 145 degrees F. Pre-heat the Pit Boss Pellet smoker to 225 degrees F using cherry wood pellets.
How do you smoke a raw ham on a pellet smoker?
Plan on the ham smoking for about 4-5 hours for a 7 pound ham (if using a full ham, 14 pounds, plan on roughly double that smoking time), and get your smoker to a temperature of 250 degrees F. Place the ham in the smoker.
How long does a ham take to cook at 225?
Place ham in a roasting pan, preheat oven to 225 degrees F (110 degrees C), and bake for about 10 hours, checking occasionally.
How long smoke a fully cooked ham in pit boss?
Place ham in a roasting pan, preheat oven to 225 degrees F (110 degrees C), and bake for about 10 hours, checking occasionally.