The salmon is a beautiful pink color with flaky meat and a delicious buttery taste, and the recipe only calls for a few ingredients; it can be baked or grilled. Use store-bought or homemade pesto; all you need is five ingredients and 30 minutes to impress your family or guests with your pesto salmon.
Best Grilled Salmon Recipe – Pesto Infused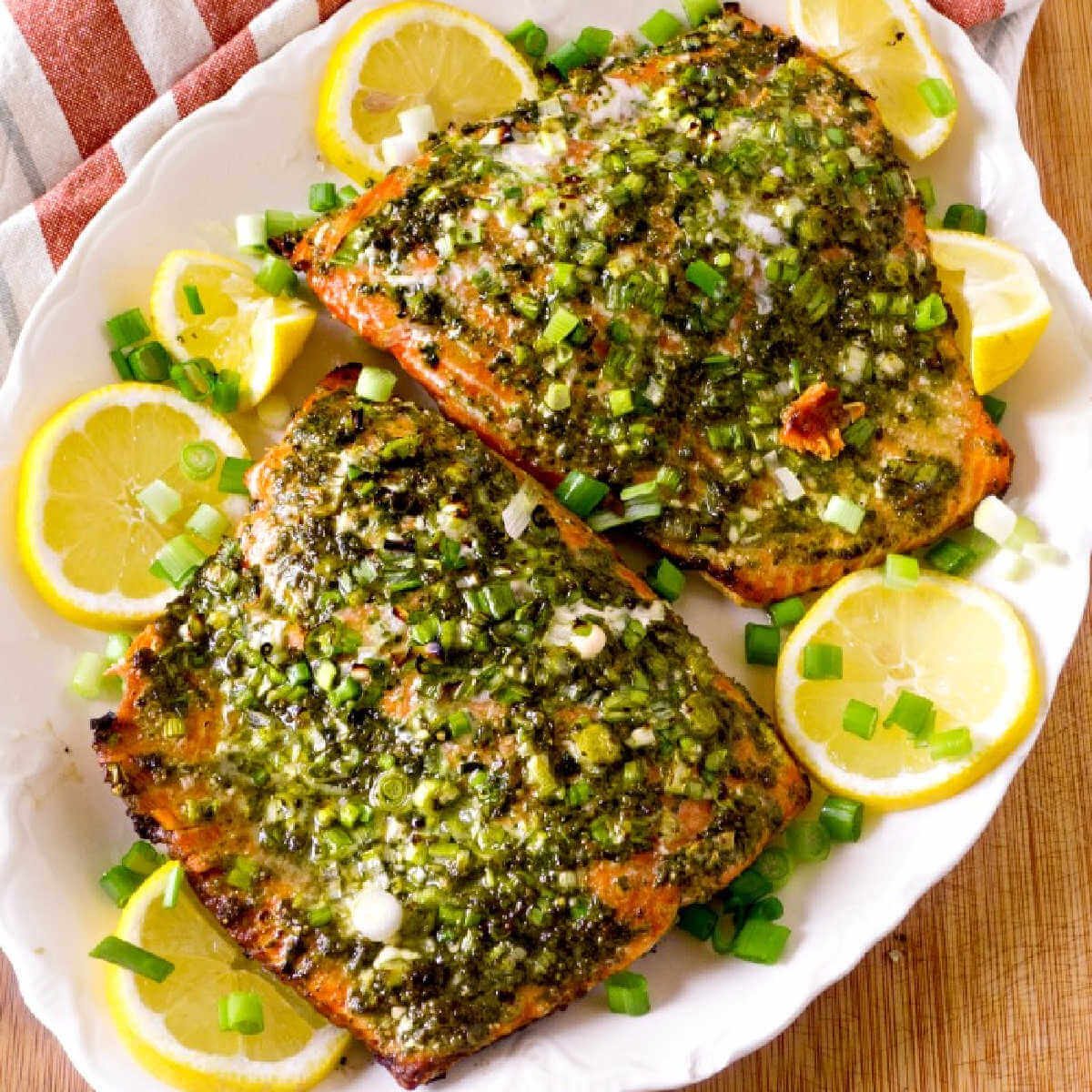 Grilled Italian Pesto Salmon 30 Minutes Start to Finish 🔗
This is quick pesto salmon recipe yields a buttery, flaky, beautifully pink salmon that will become a family favorite. Five ingredients are all that you need for this outstanding Italian salmon dish that is impressive enough for company.
Prep: 10min
Total: 30min
Serving Size: 4 ounces
Nutrition Facts: servingSize 4 ounces, calories 125 kcal, Carbohydrate 2 g, Protein 6 g, Fat 9 g, Saturated Fat 1 g, Cholesterol 17 mg, Sodium 206 mg, Sugar 1 g
Ingredients:
1 salmon fillet (1 1/2 pounds)
1/2 cup prepared pesto (we used our homemade pesto* see note)
2 green onion (finely chopped)
1/4 cup fresh lemon juice
2 garlic cloves (minced)
lemon wedges to serve with salmon
Instruction:
In a small bowl, whisk the pesto, onions, lemon juice, and garlic. Add a few grinds of pepper and a pinch of salt.
Lightly coat the grill rack with cooking oil or spray. Heat grill to medium high heat (350 F.).
Once the grill reaches the proper temperature, place salmon skin side down on the grill rack.
Grill covered over medium heat for about 5 minutes.
Spoon some of the pesto sauce over the salmon taking care it doesn't flame up.
Grill 15 minutes longer or until fish flakes easily with a fork. Baste occasionally with the remaining pesto sauce.
Serve with lemon wedges.