In order to use up your zucchini surplus and reduce calories and carbs, this low-calorie summer dinner substitutes zoodles for pasta. Once the spiralized zucchini has had time to absorb the herby pesto sauce, this chicken and pesto pasta makes particularly good leftovers. Source: EatingWell.com, July 2018.
Noodles & Co Zucchini Pesto with Grilled Chicken Taste Test Review | JKMCraveTV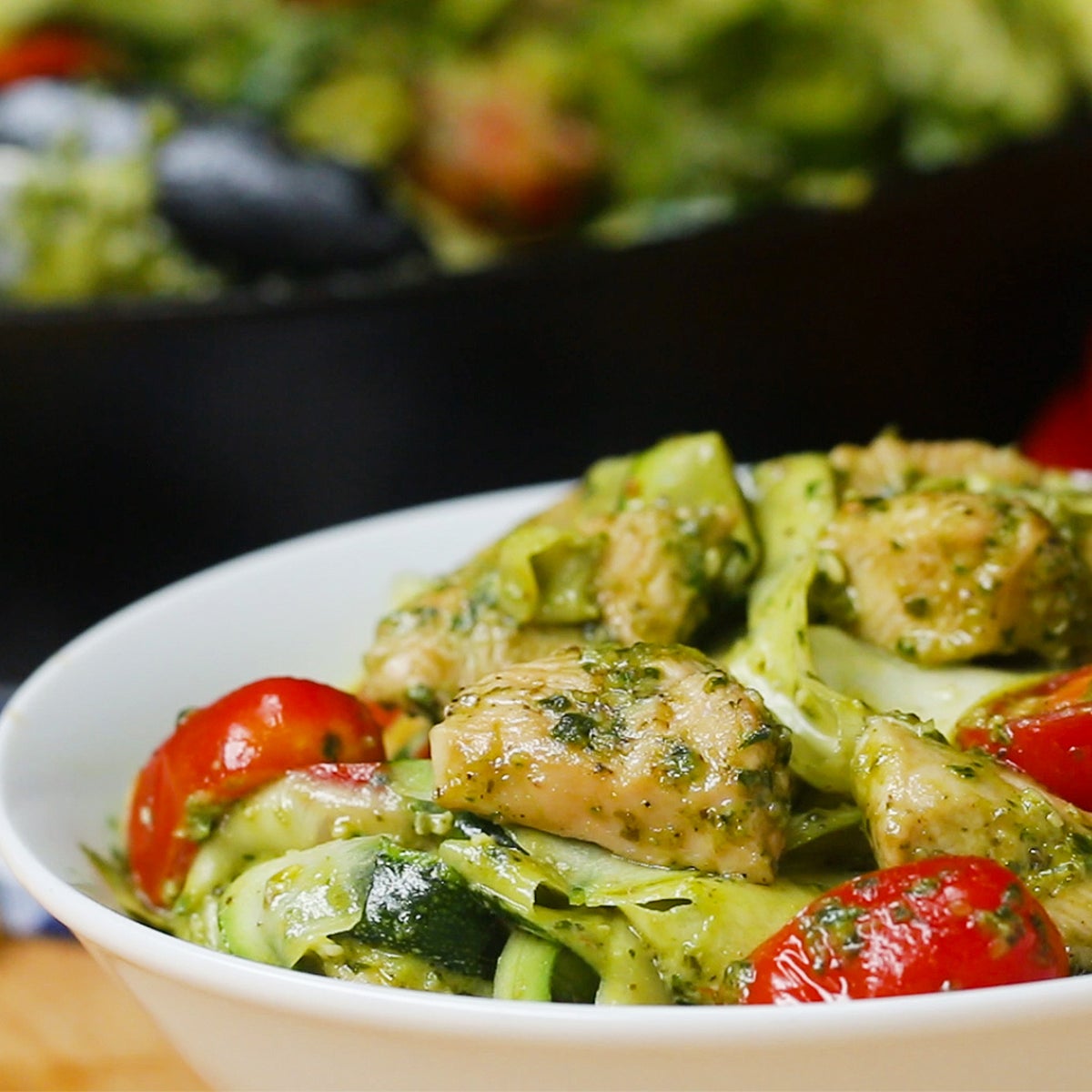 Chicken Pesto And Zucchini "Pasta" Recipe by Tasty 🔗
Here's what you need: fresh basil, grated parmesan cheese, pine nuts, garlic, lemon, salt, pepper, olive oil, oil, zucchinis, cherry tomato, boneless, skinless chicken breasts
Nutrition Facts: calories 679 calories, Carbohydrate 13 grams, Fat 55 grams, Fiber 3 grams, Protein 35 grams, Sugar 5 grams
Ingredients:
4 cups fresh basil
1 cup grated parmesan cheese
½ cup pine nuts
2 cloves garlic
½ lemon, juiced
salt, to taste
pepper, to taste
½ cup olive oil
oil
3 zucchinis
1 cup cherry tomato
2 boneless, skinless chicken breasts, chopped
Instruction:
In a food processor, combine the basil, Parmesan, pine nuts, garlic, lemon juice, salt, pepper, and olive oil. Pulse until smooth texture. Set aside.
With a vegetable peeler, shave ribbons of the zucchini until you reach the seeds. Set aside.
Slice the cherry tomatoes and set aside.
Heat a 4-quart jumbo cooker over medium-high. Add a little oil, the chicken breasts, and sprinkle with salt and pepper. Cook until the chicken is cooked through and browned on all surfaces.
Turn off the heat and add the cherry tomatoes, pesto, and zucchini ribbons. Toss until well combined and heated through.
Enjoy!
FAQ
How do you make zucchini noodles without getting soggy?
After spiralizing the zucchini, pat the noodles dry with paper towels. Cook the zoodles over medium-high heat. Do not cover the zucchini during cooking. Do not overcrowd the pan. Do not add salt. Use a pan that conducts heat well. Do not overcook the zoodles.
How many carbs are in noodles and Company zucchini pesto?
One serving of the Noodles & Company Zucchini Pesto With Grilled Chicken Small has 310 calories, 9g total carbs, 6g net carbs, 17g fat, and 33g protein.
How many carbs are in noodles and Company zucchini noodles?
The zucchini noodles from Noodles & Company contain only 4 grams of carbohydrates per cup.
What goes with pesto chicken?
The best side dishes to serve with pesto chicken are rice pilaf, Italian salad, sauteed spinach, and aglio e olio pasta. For more veggie options, try serving roasted asparagus, mashed cauliflower, or zucchini noodles. You can also serve garlic crack bread, couscous salad, or smashed potatoes.