This juicy, tender Grilled Chicken Shawarma tastes fantastic in salads, wraps, thinly sliced in sandwiches, and on its own.
This summer, I'm going to make this Grilled Chicken Shawarma a lot because it's a simple, tried-and-true recipe that's always a hit.
We also enjoy it sliced thin and served as a wrap in Turkish Flatbread. This Grilled Chicken Shawarma pairs wonderfully with our Turkish Tomato Cucumber Salad and makes a light, lean meal that's bursting with delicious flavor.
This CHICKEN Shawarma recipe is so good it might get stolen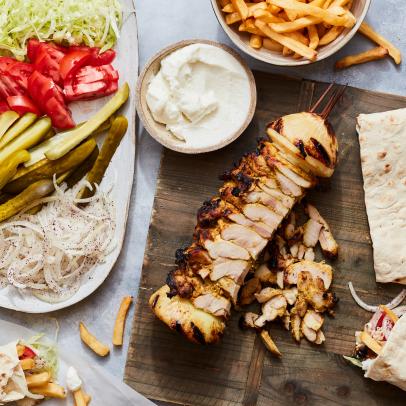 Yogurt-Marinated Grilled Chicken Shawarma 🔗
A classic Middle Eastern street food, chicken shawarma is made with large quantities of marinated chicken that are stacked in layers on a spit and slow roasted for hours. This scaled-back home version relies on skewers and a grill for a similar moist and flavorful effect. First, the chicken is marinated in generously spiced yogurt, which tenderizes the meat while infusing it with seasoning. Then the skewers are grilled quickly over direct heat to seal in the juices before being moved to indirect heat, where the meat is gently cooked through. Thinly sliced using a long sharp knife, chicken shawarma is usually served as a wrap with greens, tomatoes, garlicky creamy toum–and of course, fries!
Total: 0 5h15min0
Ingredients:
1/2 cup whole-milk yogurt
1/4 cup olive oil
4 cloves garlic, minced
1 lemon, juiced
1 teaspoon ground cumin
1 teaspoon ground coriander
1 teaspoon ground paprika
1 teaspoon onion powder
1/2 teaspoon ground allspice
1/2 teaspoon ground cardamom
1/2 teaspoon ground cinnamon
1/2 teaspoon ground turmeric
Kosher salt
2 pounds boneless skinless chicken thighs, pieces halved if large
1 large onion
1/2 cup garlic cloves, peeled (about 2 heads)
1/2 teaspoon table salt
1 3/4 to 2 cups vegetable oil
2 tablespoons lemon juice, from about 1 lemon
2 tablespoons ice water
4 to 6 lavash or pita
2 cups shredded lettuce
1 onion, halved, thinly sliced and seasoned with sumac
2 Roma tomatoes, halved and sliced
3 dill pickles, cut lengthwise into 6 spears
18 ounces frozen French fries, cooked
Instruction:
For the chicken shawarma: Combine the yogurt, olive oil, garlic and lemon juice in a large bowl. Add the cumin, coriander, paprika, onion powder, allspice, cardamom, cinnamon, turmeric and 2 teaspoons salt and mix to combine.
Add the chicken and toss to make sure every piece is fully coated and smothered in the marinade. Cover and refrigerate for at least 4 hours and up to 8 hours. Soak 3 wooden skewers in water for 30 minutes. 
For the toum: Meanwhile, slice the garlic cloves in half and remove any green sprouts. Place the garlic and 1/2 teaspoon salt in a food processor and blend until it becomes a paste, scraping down the bowl as needed. 
With the food processor running, pour in 1/2 cup of the oil in a very thin stream; this should take about 2 minutes. Stop to scrape down the bowl. Turn on the processor again and stream in the lemon juice, then stream in another 1/2 cup of the oil very slowly. Add 1 tablespoon of the ice water and pulse to combine. Add another 1/2 cup of the oil, then the remaining 1 tablespoon ice water. Then add the remaining 1/4 to 1/2 cup oil until creamy and fully emulsified. The whole process should take about 20 minutes. The toum will keep, in an airtight container in the refrigerator, for up to 2 months. Makes about 2 cups. 
Preheat an outdoor grill to medium high and set it up for both direct and indirect heat. (For a gas grill, leave one or two burners on low or off; for a charcoal grill, bank the coals on one side of the grill.) 
For serving: Cut the onion in half and place one half cut-side down on a cutting board. Insert the wooden skewers in the onion, blunt side in. The skewers should be spaced apart equally from each other to form a triangle. 
Thread the pieces of marinated chicken onto all 3 skewers on top of each other with no space between them. When all the chicken pieces are threaded, top the skewers with the other half of the onion.  
Place the shawarma on the direct-heat side of the grill and cook, rotating every 3 to 4 minutes using a pair of sturdy tongs, until you achieve nice grill marks, 10 to 12 minutes.  
Move the shawarma to the indirect heat side of the grill, cover and cook, turning occasionally so it cooks evenly on all sides, until the meat feels firm to the touch and the internal temperature reaches 160°F, 30 to 40 minutes.  
Transfer the shawarma to a cutting board. Cover the with a piece of aluminum foil and let it rest for 5 minutes. Uncover and hold the shawarma upright on a sturdy cutting board. Cut the chicken into strips from the top to the bottom of the stack using a sharp knife. 
Spread a lavash all over with toum. Place some lettuce, onions with sumac, tomatoes and pickles on the lavash and add the sliced shawarma and some French fries. Wrap tightly and serve. 
FAQ
What is shawarma marinade made of?
The following ingredients are needed to prepare the shawarma marinade: In a bowl or jar, combine the olive oil, lemon juice, garlic, honey, cumin, smoked paprika, cinnamon, ginger, oregano, turmeric, and cayenne. Season with 1 1/2 teaspoons kosher salt and freshly ground black pepper, to taste.
What are the sauces used in shawarma?
The basic ingredients of traditional chicken shawarma are well-marinated chicken pieces that are layered on a vertical rotisserie or spit and slow-roasted for days in their own juices and fat until they are perfectly tender and exceptionally flavorful.