Perfect pulled pork is worth the wait, and this adaptable BBQ meat can be prepared in any way you like by smoking it low and slowly.
The Best Pulled Pork Recipe by Traeger Wood Pellet Grills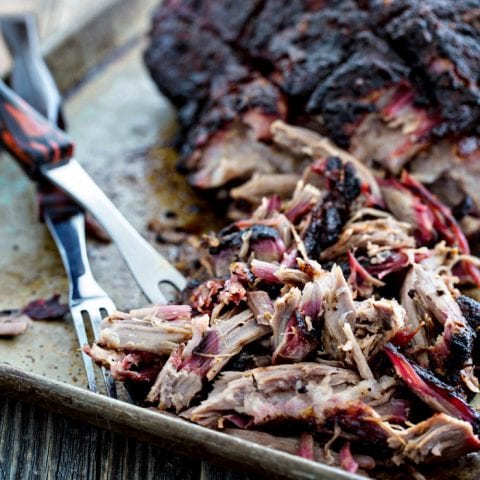 The Best Smoked Pork Shoulder 🔗
Smoked Pork Shoulder is a classic summertime BBQ recipe. Come check out my tried and true method for making Traeger Smoked Pulled Pork along with my 9 pro tips for the best smoked pork – I'm including my favorite pork shoulder brine and pulled pork rub.
Prep: 1D
Total: 1D 13h
Serving Size: 1
Nutrition Facts: calories 704 calories, Carbohydrate 0 grams carbohydrates, Cholesterol 217 milligrams cholesterol, Fat 52 grams fat, Fiber 0 grams fiber, Protein 56 grams protein, Saturated Fat 19 grams saturated fat, servingSize 1, Sodium 164 milligrams sodium, Sugar 0 grams sugar, Trans Fat 0 grams trans fat, unSaturated Fat 28 grams unsaturated fat
Ingredients:
1 quart Hot Water
1 cup Kosher Salt
1/4 cup Brown Sugar
2 tablespoons Peppercorn
2 quarts Apple Cider
3 quarts Cold Water
1/4 cup Worcestershire Sauce
1/4 cup Apple Cider Vinegar
8 1/2 pound Pork roast
1/4 -1/2 cup Pork Rub
Instruction:
In container large enough to fit the pork shoulder covered with the brine, combine the hot water, salt, brown sugar, and peppercorn.
Stir the ingredients until completely dissolved.
Add the cold apple cider, cold water, Worcestershire sauce, and apple cider vinegar. Stir until combined.
Let sit at room temperature and trim any excessive fat from the outside of the pork shoulder. Discard the excess fat.
Score the pork by cutting a 4 line by 4 line tic tac toe pattern on both sides of the pork.
Place the pork in the brine, cover, and refrigerate for 24 hours.
Remove the pork from the brine.
Discard the brine and rinse the pork all over with cool water. Pat dry.
Place the pork shoulder on a large baking sheet and pat dry with paper towel.
Rub the pork rub all over the meat on all sides, using more if needed to evenly cover the meat, or if you prefer more.
Place the pork on the baking sheet in the refrigerator and let chill for at least 2 hours or up to 24 hours (I prefer 24 hours).
Prepare your smoker to a low heat setting.
On our Traeger, we use the "smoke" setting (around 150-160 degrees F) and we either use Oak, Hickory, Apple, or a blend of pellets for our wood.
Transfer the pork to the smoker.
Insert the probe of a digital meat thermometer that is safe for BBQing into the thickest part of the meat – make sure to avoid large fat deposits and the bone as they will cook hotter than surrounding meat and give false high readings on the thermometer.
Smoke on 150-160 degrees F for 4 hours.
After 4 hours, Increase the temperature to 275 degrees F and continue to cook until the the meat thermometer registers 210-215 degrees F. Approximately 6-8 hours.
When the pork has reached 210-215, remove from the smoker and transfer to a clean baking sheet.
Power down the smoker according to manufacturer instructions.
Allow the pork to cool for 30 – 60 minutes, or until cool enough to handle.
Shred with two large forks or a pair of shredder claws.
FAQ
How long does it take to cook pulled pork on a pellet grill?
Place pork, fat cap side up, on grill grate, close lid, preheat pellet grill to 225°F, basting with apple juice mixture every hour, and cook until a meat thermometer inserted into the thickest part of the pork registers 150°F to 155°F, 5 1/2 to 6 1/2 hours.
How long does it take to smoke pulled pork at 225?
There are many variables that affect how long it takes, including the humidity in the air, how consistently the grill holds temperature, the outside temperature, and more, so the same piece of smoked pork shoulder takes from 12- 16 hours at 225.
How long do you smoke a pork shoulder on a Traeger?
When the internal temperature of the pork shoulder reaches 160°F, remove it from the smoker and wrap it in butcher paper or aluminum foil. Preheat the Traeger grill to 250°F. Pat the pork shoulder dry. Season with salt, pepper, and garlic powder. Smoke the pork shoulder for about 3 hours.
Should you smoke pulled pork at 225 or 250?
However, both temperature ranges will result in a delicious smoked pork shoulder, so it ultimately comes down to personal preference. Smoking a pork shoulder at 225 degrees will produce a more tender and juicy final product, while smoking at 250 degrees will give the meat a little more of a crust.