Visit my Pinterest board HERE to view all of my previous posts and get links to the recipes.
Arugula, romaine, butter lettuce, watercress, or a combination of your choice of greens (your call)
Optional: protein (chickpeas, black beans, vegan chicken, or any other protein you prefer), chopped herbs (basil or cilantro).
Slice the red pepper, asparagus, and zucchini into 1/4-inch thick slices; grill until softened and marked with grill marks; set aside. Grill the corn in the husks until the outside is blackened; cool; discard the husks; then cut the corn from the cobs.
If there will be leftover vegetables, do not dress them; they will stay fresher in the fridge undressed. Now, simply assemble the salad as you would any other.
Excerpts and links may be used, provided that full and clear credit is given to Christine Elise McCarthy and Delightful-Delicious-Delovely with appropriate and specific direction to the original content. Video Vegan 2022. Unauthorized use and/or duplication of this material and use/duplication of any photographs without express and written permission from this blog's author and/or owner is strictly prohibited.
Make The Ivy's Signature Grilled Vegetable Salad | Get the Dish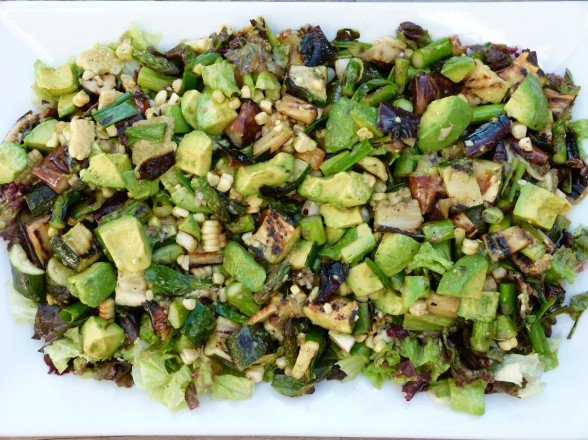 Chopped Grilled Vegetable Salad 🔗
0
Ingredients:
Dressing:
2 Tablespoons fresh lime juice
2 Tablespoons unseasoned rice vinegar
1 small shallot, finely chopped
2 teaspoons Dijon mustard
2 teaspoons raw honey
1 teaspoon sea salt
freshly ground pepper to taste
½ cup unrefined, cold-pressed extra-virgin olive oil
Salad:
2 ears corn
1 bunch asparagus, about ¾ pound, ends trimmed
3 Japanese eggplant, about ¾ pound, halved lengthwise or 3 Portobello mushrooms (less commonly know as Portabellas, but really just oversized cremini mushrooms)
3 medium zucchini, about 1 pound, halved lengthwise
1 bunch scallions, left whole or 1 red onion, sliced thickly
sea salt and black pepper for seasoning
8 cups romaine or red leaf lettuce, chopped (optional)
2 ripe avocados, peeled and cubed
Instruction:
Prepare corn: Pull husks down and remove silks. Replace one layer of husks and discard the rest. Soak in water until grill is ready.
Preheat a grill over medium high heat or heat a grill pan.
Place all dressing ingredients except oil in a small bowl. Add olive oil slowly, whisking continuously to emulsify. Lightly brush the asparagus, eggplant or mushrooms, zucchini and scallions with dressing (I used 7-8 tablespoons.) Sprinkle with sea salt and black pepper to taste.
Grill each vegetable according to doneness. Each one takes a different amount of time. Corn takes about 5 minutes on each side. Do not overcook! Allow to cool slightly, then chop into bite-sized chunks. Cut corn off the cob.
Place lettuce on a large platter and drizzle lightly with some of the dressing. Toss to coat. Drizzle the chopped vegetables with most of the remaining dressing and arrange on top of the lettuce. Dress the avocado cubes with any remaining dressing and arrange on top.