Follow these steps for consistently perfect (and the best) corned beef this St. Patrick's Day with this recipe for smoked Corned Beef Brisket.
The best way to consistently get perfectly cooked corned beef is to smoke it on a pellet grill.
This recipe, which only calls for beef brisket, black pepper, and light beer, is flavorful, easy to make, and perfect for the smoker.
You should serve this corned beef with some delicious sides, such as roasted potatoes and everything cabbage.
Perfect Melt In Your Mouth SMOKED WINGS Recipe • REC TEC Greg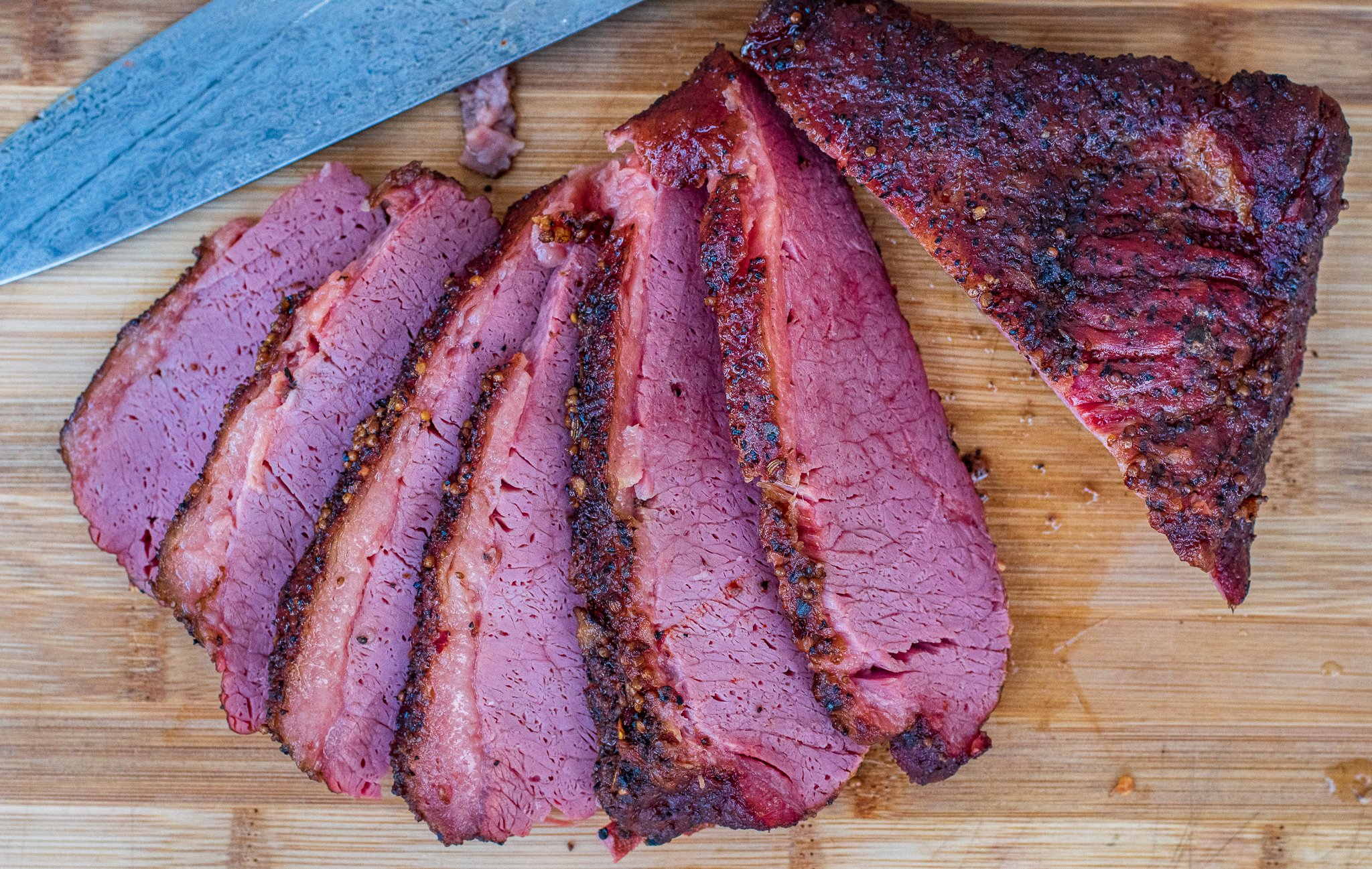 Smoked Corned Beef 🔗
This St. Patrick's day step up your game with this smoked Corned Beef Brisket recipe. Follow these steps for perfect corned beef every time.
Prep: 10min
Serving Size: 7 oz
Nutrition Facts: servingSize 7 oz, calories 410 kcal, Carbohydrate 2 g, Protein 40 g, Fat 41 g, Saturated Fat 13 g, Cholesterol 147 mg, Sodium 3313 mg, Fiber 1 g, Sugar 1 g
Ingredients:
6 lb Corned Beef Brisket (Raw)
2 tbsp Black Pepper
8 oz Light Beer
Instruction:
Set your Pellet Grill to 275 Degrees F.
Cut open packaging of corned beef and drain off liquid. be sure to grab the spice packet included with the brisket. gently rinse off corned beef and then pat dry with a paper towel.
Open the spice packet included with your corned beef and sprinkle contents over the brisket. then sprinkle a light dusting of black pepper. you can use as little or as much black pepper as you like.
Once Pellet grill has reached temperature insert probes into corned beef brisket pieces. if you only have a single probe place that probe in the center of the smallest piece because it will cook the fastest.
Smoke for 3-4 hrs until corned beef reaches an internal temperature of 175 degrees f. Next transfer briskets to a aluminum pan and pour just enough beer in to cover the bottom of the pan. Cover with foil leaving one corner open to let out steam.
continue cooking for another 2-3 hours until internal temperature reaches about 205 degrees F. Use an instant read thermometer and poke different parts of the brisket checking for tenderness. If probe goes into the meat with vwry little tension than it is done. If not continue cooking until tender.
Once meat is tender and fully cooked remove pan from pellet grill and let the corned beef rest for about 30 minutes still covered with one corner open to prevent overcooking.
Slice corned beef into 1/8 inch slices cutting against the grains of the brisket. if brisket crumbles make slices a little thicker. if meat seems tough then cut thinner slices.
FAQ
What can I cook on Rec Tec grill?
You'll be amazed at what a pellet grill can do, whether you're smoking, grilling, braising, roasting, baking, searing, or broiling. Cook an entire meal on your recteq, or select from our chef-recommended chicken, beef, pork, fish, seafood, and vegetable courses.
How long does it take to cook a steak on a rec TEC grill?
Turn the recteq up to full with the sear kit and let it come to temperature while the steaks rest. Season steaks with oil and Ben's Heffer Dust. Cook the steaks until they reach an internal temperature of 125°F and then remove (45–60 minutes).
How long will a Rec Tec grill last?
Wide temperature range allows you to smoke, grill, sear, bake, and dehydrate. Ceramic ignition system should last nearly 300 years of smoking and grilling.
What kind of pellets can you use in a rec TEC grill?
You can now combine Mesquite, Apple, Cherry, and our Ultimate Blend Pellets to create a smoke that is unique to each cook.