This restaurant-quality Qdoba chicken recipe is rich, savory, and smoky, and it tastes exactly like the chicken from Qdoba. It goes great with just about anything!
Chipotle / Qdoba Chicken & Cilantro Lime Rice Bowl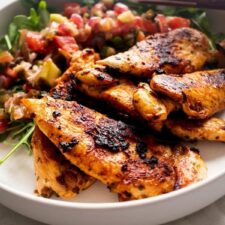 Qdoba Chicken Recipe 🔗
This Qdoba chicken recipe tastes just like the one from Qdoba. This restaurant-quality chicken recipe is rich, savory, and smoky, and it pairs great with practically everything!
Prep: 30min
Total: 45min
Serving Size: 1 serving
Nutrition Facts: servingSize 1 serving, calories 166 calories, Fat 2.5, Carbohydrate 2, Protein 35
Ingredients:
2 lbs boneless skinless chicken tenderloins
2 cloves garlic minced
2 tablespoons olive oil
2 tablespoons adobo sauce from a small can of chipotle peppers
1/2 teaspoon oregano or Italian seasoning
1 teaspoon salt
1/2 teaspoon black pepper
Instruction:
Combine chicken garlic, olive oil, adobo sauce and seasoning in a large bowl (or ziplock bag). Refrigerate for 30 minutes or up to 2 days.
Preheat about 1 tablespoon of oil in a large pan over medium-high heat. Add the chicken to the pan and cook, turning occasionally, until completely cooked through, about 6-7 minutes per side (internal temp 165°F).
Remove the chicken from the pan and put on a cutting board. Allow it to rest for 5 minutes then slice or chop. Serve and enjoy!
FAQ
What is in a Qdoba chicken Bowl?
A double serving of grilled adobo chicken, sautéed fajita vegetables, hand-smashed guacamole, homemade pico de gallo, salsa verde, crisp lettuce, and black beans are included in the chicken protein bowl.
Is Qdoba chicken white meat?
In addition, the chicken at Qdoba is white meat, whereas the chicken at Chipotle is a white/dark mix. First, Qdoba offers a ground beef meat option, whereas Chipotle does not.
Is Qdoba chicken Spicy?
The bowl can be topped with guacamole, lettuce, salsa, sour cream, cheese, corn, etc. after the basic ingredients of rice, chicken (or steak), beans, and pico de gallo have been added.