Let's roll some smoke and get started on how to smoke a steak. When done properly, smoked steak is tender, juicy, and has a perfect smoke flavor. I'll show you how to make the perfect smoked steak.
To grill a ribeye steak, trim the fat and rub with a neutral oil and seasoning. You can go with simple salt and pepper. Let your Traeger get to 500 degrees Fahrenheit, and place your steaks directly on the grill grate, flipping every 6 minutes. Cook until steaks reach an internal temperature of 132 degrees and enjoy.
Ribeye Steaks on A Pellet Grill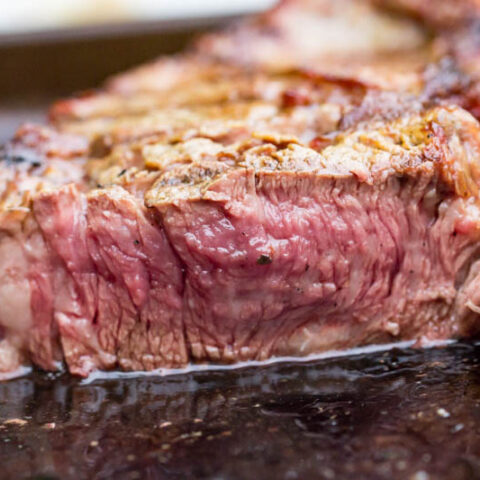 Traeger Ribeye 🔗
This is Traeger Ribeye is cooked right on the pellet grill. Instructions included here are for both a traditional sear and a reverse sear. Choose your own adventure, as long as it includes Berta beef, s&p, 4 minutes a side, down the hatch.
Prep: 30min
Total: 45min
Serving Size: 1
Nutrition Facts: calories 615 calories, Carbohydrate 0 grams carbohydrates, Cholesterol 177 milligrams cholesterol, Fat 43 grams fat, Fiber 0 grams fiber, Protein 56 grams protein, Saturated Fat 19 grams saturated fat, servingSize 1, Sodium 205 milligrams sodium, Sugar 0 grams sugar, Trans Fat 0 grams trans fat, unSaturated Fat 23 grams unsaturated fat
Ingredients:
2 pounds Ribeye Steak
salt & pepper
Instruction:
Preheat your grill over high heat following factory instructions. Let the beef come to room temperature, pat dry with paper towels, and coat with salt and pepper liberally.
Place on the grill and grill for 4-5 minutes per side, depending on how done you like your beef. The best way to tell is to use an instant-read thermometer, such as the Thermopen. (Link below)
Remove from the grill when it reaches 4-5 degrees below your desired level of doneness, and let rest for 5 minutes before serving.
Preheat your grill to 225° following factory instructions. Let your beef come to room temperature, pat dry, and then liberally salt and pepper the meat.
Place the meat on your pellet grill and shut the lid. Grill until the center reaches 125° for medium rare, or 130° for medium. With the reverse sear you want to pull them about 5-7° under where you ultimately want them to end up.
Preheat a cast iron skillet on a stove or a flat top grill over high heat. Throw down a little bit of high-smoke-point oil, such as avocado oil.
Place the steak on the pre-heated skillet or flat top and let cook for about 2 minutes per side, or until a crust has formed.
Remove, let rest for 5 minutes, and eat!
FAQ
What temperature do you cook ribeye on pit boss pellet grill?
If you prefer the reverse-sear method, start cooking your steak on a pellet grill at about 225 °F or 107 °C. The best temperature to cook a steak on a pellet grill is around 400 °F or 204 °C if it's direct heat.
How long does it take to smoke a steak on a pellet grill?
Place steaks directly on the grill after the Pit Boss Grill has heated up to 400°F. For a medium-done steak, sear each side for 5-7 minutes, flipping the steaks only once. Adjust time to your desired doneness.
How long does it take to smoke a ribeye at 225?
Steaks should be seasoned with salt and pepper on both sides and cooked in a pellet smoker for 45 minutes or until the internal temperature reaches 110 degrees. Preheating the smoker to 165 degrees usually takes 15 minutes, depending on the smoker.