With juicy chicken covered in melted mozzarella cheese, basil pesto, and lemon-garlic sauce, this Olive Garden grilled chicken margherita tastes just like the one you'd get at the restaurant.
Olive Garden Margarita Chicken Copycat Recipe | Chicken Margarita | Easy Dinner Ideas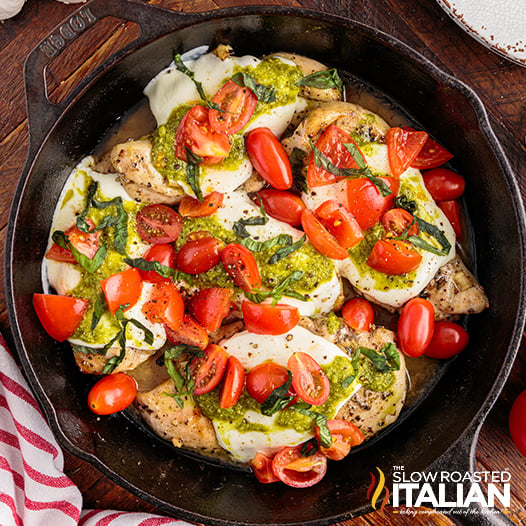 Grilled Chicken Margherita (Olive Garden Copycat) 🔗
Grilled Chicken Margherita is our copycat for the popular Olive Garden recipe. The succulent grilled pesto chicken cooks up in 30 minutes!
Prep: 10min
Total: 30min
Serving Size: 1
Nutrition Facts: servingSize 1, calories 586 kcal, Carbohydrate 6 g, Protein 47 g, Fat 41 g, Saturated Fat 16 g, Cholesterol 174 mg, Sodium 1202 mg, Sugar 2 g, Fiber 1 g
Ingredients:
6 boneless skinless chicken breasts (sliced horizontally to create cutlets (See Notes))
2 tablespoons olive oil
1 teaspoon Italian seasoning
3/4 teaspoon salt (or to taste)
1/2 teaspoon black pepper (or to taste)
4 tablespoons salted butter
4 cloves garlic (minced)
1 tablespoon lemon zest ((1 small lemon))
2-3 tablespoons lemon juice (freshly squeezed (from zested lemon))
6 slices fresh mozzarella
6 tablespoons basil pesto (homemade or store bought)
1 cup diced fresh tomatoes ((we use a combination of halved grape tomatoes and quartered Campari tomatoes)
1/4 cup chopped fresh basil
Instruction:
Remove chicken breasts from packaging and use a paper towel to pat them dry. Rub all sides with olive oil, then sprinkle with Italian seasoning, salt, and pepper.
Heat grill to medium high heat. Cook prepared chicken for 3-4 minutes on each side, or until internal temperature reaches 162°F. (Time will vary depending on thickness of chicken breast. If some chicken pieces are larger than others, remove chicken as it is done cooking and set aside while larger/thicker pieces finish cooking.)
In a cast iron skillet, heat butter over medium heat until melted. Add the garlic and sauté for 1 minute, or until very fragrant.
Add lemon juice and lemon zest to the skillet, whisking to combine; simmer for 1-2 minutes.
Place the grilled chicken into the pan, flipping it once to coat both sides in the lemon butter sauce.
Top each piece of chicken with 1-2 slices of fresh mozzarella. Cover the pan and simmer on low for another minute or two, until cheese has melted. *See Notes
Spoon a tablespoon of pesto (more or less to your liking) over each piece of chicken and top with fresh tomatoes and chopped basil. Serve immediately.
FAQ
How many carbs are in Olive Garden Chicken Margherita?
Grilled chicken breasts with fresh tomatoes, mozzarella, basil pesto, and a lemon garlic sauce are topped with 540 calories.